Junior Beta Club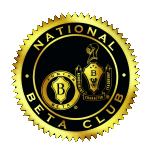 Junior Beta Club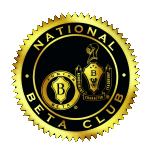 2016-17 Junior Beta Club Officers
| | |
| --- | --- |
| President | Kristen Cheney |
| Vice President | Michaela Copeland |
| Secretary | Jasmine Anitak |
| Treasurer | Tamaja Musgrave |
| Reporter | Gabrielle Smallwood |
2016-2017 Members
1. Gabrielle Smallwood
2. Kristen Cheney
3. Cate-Lynn Howell
4. C.J. Carrington
5. Kylie Sutton
6. Jasmine Anitak
7. Tamaja Musgrave-Ingram
8. Ricardo Rodriguez
9. Lelah Few
10. Essence George
11. Andrew Jaimes
12. Michaela Copeland
13. Krustyn Knighton
14. Cristina Escobar
15. Nora Nesbitt
16. Terrance Bowen
17. Kira Shindley
18. Kennedy Bedford
19. Valerie Ticse
20. Daniel Pineda
21. Sarah Barnhill
22. Ososese Okojie
23. Anahi Garcia-Reyes
24. William Kluttz
25. Evelin Castro
26. Marlon Cruz
27. Stephanie Hernandez
28. Faryn Algarin
29. Ashley Centeno
The National Beta Club recognizes,
academic achievement, promotes character,
develops leadership skills,
encourages service involvement, and
provides technological advantages to
students in grades 5 - 12.
Junior Beta Club is offered to students in 5th through 9th grades . This club recognizes outstanding achievement, promotes character and social responsibility, encourages service involvement to school and community, fosters leadership skills, grants scholarships, and provides settings for a child to develop interpersonal relationship skills.
Douglas County Criteria for Jr. Beta Club
These criteria have been adopted county-wide for students to receive an invitation to join Jr. Beta Club at the elementary school level. Both criteria must be met.
1. Students must earn a grade of 85 or higher in each academic subject area. AND
2. Students must receive all satisfactory marks on the "Citizenship and Study Habits" checklist.
Students will be required to participate in a service project as members of Jr Beta Club.

The Junior Beta Pledge:
I hereby declare
That I shall always strive
To be honest and truthful at all times
To maintain a creditable scholastic record;
To be of service to my teachers and fellowmen;
To conduct myself in an ethical and moral manner
to reflect credit upon my school and community.

The Beta Creed
As a member of the Beta Club and as a citizen of my community, state, and nation I believe in and shall strive to promote the principles of::
Honesty:
knowing that honesty is necessary to the formation of good character, and that the principles of honesty dictate that I not only refrain from acts of dishonesty; but that I perform my duties fully and take advantage of the opportunities afforded me by my circumstances;
Justice:
believing that it is only right and proper that I should be just and fair in my dealings with my fellowman; that I should condemn no one without giving him a chance to defend himself; and that I should consider all factors before forming an opinion of another's motives, or before passing judgment upon his actions;
Service:
being convinced that the rendering of helpful service to my fellowman is a duty and privilege conferred upon me by my forbears and by my environment, and that I can attain lasting satisfaction only by rendering such service to the best of my ability;
Cooperation:
knowing that I must work closely and in a friendly manner with others in this day of highly organized social and economic endeavor; and that I must respect authority and strive at all times to be dependable-if I am to be of greatest helpfulness to society;
Responsibility:
believing that full happiness is possible only through full acceptance of responsibility for my actions and for preserving and passing my rich inheritance on to coming generations;
Industriousness:
being aware of the of the fact that-if I am to be a factor for progress in my community and a real help to my associates-my mind must be alert to understand and my hands ready to perform promptly and fully the tasks that come my way;
Humility:
being convinced that humbleness of spirit is the only proper attitude for me to maintain in my relation with my associates, and that such spirit and attitude will make for my own peace of mind and for the well-being of those with whom I come in contact;
Charity:
knowing that if I am-
tolerant in my appraisal of the ideas of others;
generous in the use of my worldly assets;
considerate of the rights of others;
courteous in my actions toward all alike;
gentle in my efforts to correct errors in others;
kind in the exercise of my duties-
I shall then be better able to contribute to the happiness of myself and others.
As Beta Club members and as a citizen of our community, state, and nation our members are asked to demonstrate belief in and shall strive to promote the principles of:
For more information: http://www.betaclub.org/